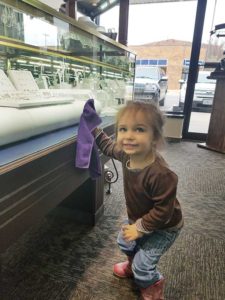 Our youngest daughter Tallia took it upon herself recently to start cleaning our showcases. It's something she has seen her mom, dad and our employees do countless times. We thought it was a cute moment and a great picture, but it's also true. Learning the family business begins at an early age.
Sales 101: You gotta keep the glass clean.
It's fun to see our oldest kids taking an interest in the business in different ways. Fortunately, we have three girls and they love jewelry. Reagan and Alexis have both been asking about the different gemstones. The different colors. The different shapes… and how things are made.
Even though they've been around the business their entire lives, and seen the work happening, they are starting to understand what it takes to run the business and why we do what we do. Keeping the glass in our cases clean. Offering a drink to someone that comes in. Making introductions and asking how life is going. They've even started developing their own relationships with our clients.
It would be fun to have the opportunity to work with our kids in this business. We'll see what the future holds. We have a few more years to go until child labor laws are not an issue. 🙂