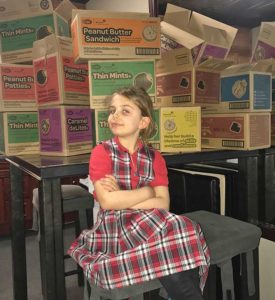 Reagan took on the task of selling Girl Scout cookies to help her troop. 100% of the money stays local, so friends and neighbors buying the cookies were supporting Reagan as well as their local Kansas City community.
She started out by going door to door here in the College Village shopping center. We were impressed with how personable she was when asking for the sale.
A special thank you to Mark Rodden and his staff at Highpointe Financial Group who were responsible for the back of Gene and Karen's car being full of boxes for delivery.
Before Reagan was done, she had blown away any quota we thought she might hit. Our break room was covered in cases of Girl Scout cookies. We couldn't help think that this was a future salesperson for House of Diamonds in the making. Fun!