J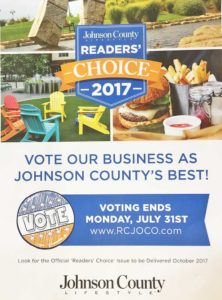 ohnson County Lifestyle magazine is running their official Reader's Choice contest for area businesses. They are going to collect all the votes and announce the winners in the October issue of Lifestyle magazine.
There are lots of categories, but the one we are listed under is #21, Best Jeweler. Originally, there were over 30 jewelers in the running. That number has been narrowed to six, and we're still in the running!
The Deadline for Entries is July 31st
Please do us a big favor. Take the survey and vote for House of Diamonds for item #21! All you have to do is fill out your name and email address, and then vote for House of Diamonds under category 21. If you want to vote for other favorites, go for it. Thank you so much!