You have heard about fake news, but let's talk about something worse: fake custom jewelry. At House of Diamonds in Kansas City, our specialty is designing real, elegant custom jewelry. Our custom jewelry is 100% designed, prototyped, cast, and hand finished right here in our Overland Park studio. We work directly with our customers to design the perfect unique custom piece of jewelry for you. Whether it is designing an extraordinary custom engagement ring, resetting stones from your grandmother's ring to create a pendant, or customizing the perfect set of cufflinks for your husband, our team of custom jewelry experts in Kansas City have you covered.
What sets our custom jewelry apart from competitors in Kansas City?
Our Custom Jewelry Designs Are Created Right In Our Jewelry Store
All our custom jewelry is designed and created right here in our jewelry store in Overland Park, Kansas, which means your masterpiece will never leave our shop until it goes home with you.
Computerized Casting Equipment
We don't ship out your design order to another location to be casted and created. We have our custom computerized casting equipment right in our Overland Park jewelry store, so you can be sure that what we design for you is exactly what you wanted and asked for. Many competitors in Kansas City believe they sell custom jewelry when they design a ring with you but then check off their menu options and ship off the order to another location. At House of Diamonds, we've taken the time, money, and experience of our craftsmen to have the technology we need in-house to create custom jewelry you've always dreamed of.
Experienced Craftsmen
Other jewelry stores in Kansas City might say they do custom jewelry work, but it's important to ask if they have a jewelry designer or craftsmen on staff. One of our craftsmen, Bob Snell, has over 40 years of experience and apprenticed under several master jewelers. Bob performs all the custom metal casting and integrates it with our computerized casting operations right in our Overland Park store. Our other craftsman, Tyler Divish, graduated from the highly regarded Texas Institute of Jewelry Technology and earned the Stuller Platinum Award of Excellence.
Remaking and Updating Example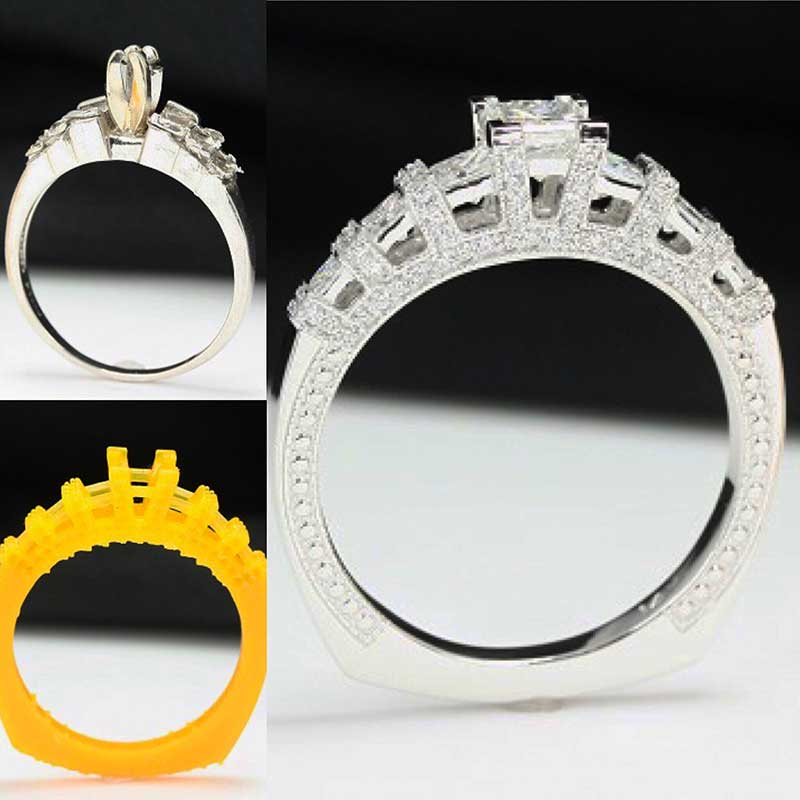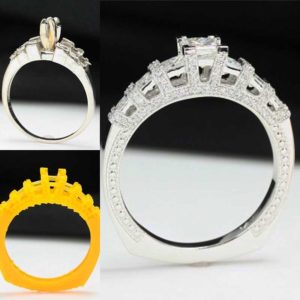 We recently had a client wanting to update her current wedding ring. It was a traditional graduated princess cut design, and she was ready for a change! We were able to create a stunning custom design created specifically for her original diamonds but in an exquisite, updated concept. We love being a part of all our client's special moments!
Below is a small sampling of some of our custom jewelry work: