Why Choose House of Diamonds for Custom Earrings
With our 75+ years of experience, we are confident that our team is fully capable and dedicated to bringing to life your custom earrings design and ideas. We build trust with our valued customers through our proven processes and techniques. 
All our custom earrings are designed and created right here in our jewelry store in Overland Park, Kansas, which means your customized earrings will never leave our shop until they go home with you. 
House of Diamonds sets the bar for innovative, quality jewelry design and craftsmanship. We back that work with a
double-lifetime warranty
and client service that only a local, family-owned business can provide.
Custom Earrings
You are uniquely you, so why should your earrings be any different? With House of Diamonds in Kansas City, you can create custom earrings that are unique to you. At our family-owned jewelry store, our craftsmen welcome creativity and encourage customers to bring ideas for customizing a personalized set of stunning earrings. Before you design your earrings for yourself or that special someone, it is essential to explore all of the possibilities. To help you create the perfect look, we've detailed a wide array of styles and shapes so you can decide which type of customized earring style is best for you.
Stud Earrings
Stud earrings are a simple, yet classic design that is appropriate for every age group. Stud earrings are great for day-to-day wear and for people who work in environments that require smaller pieces of jewelry for functionality (i.e. health professionals orchildcare). Stud earrings can be personalized with variations in the stone shape, stone type, color, and type of metal. People often choose stud earrings for a classic, timeless look that will last for generations to come and with a simple diamond halo jacket that is interchangeable, diamond stud earrings can easily be enhanced for a bolder look.
Hoop Earrings 
The hoop earring shape has evolved over the years. These earrings can be customized with variations in size, additional stones and embellishments, metal type, and more. Customize this earring style for a formal night out, a simple touch, or a statement piece that fits your style.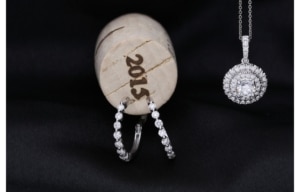 Huggies Earrings 
Huggies earrings are a similar concept to hoop earrings, but with more practicality. Huggies, as the name suggests, hug your earlobes more while still having a shape that hangs down from your ear.  You can customize these earrings with the type of metal, jewels embedded, the slimness of the earring, and more. 
Drop/Dangle Earrings 
Are you looking to add a touch of sophistication to your style? Then drop/dangle earrings are the perfect fit for you. With this style, it is customary to see an elongated attachment from the ear, hanging parallel to the face. The end of this attachment typically is a stone that you can choose to fit your specific taste in earrings. 
Teardrop Earrings 
Deriving from the style of a drop earring, the teardrop earring has a greater focus on the teardrop-shaped stone and less on a long hanging extension from the earlobe. Heart, round, and oval face shapes are perfect for this customized earring style. 
Cluster Earrings
This decorative style earring incorporates multiple stones in similar or varying shapes all placed together to create the desired shape. Cluster earrings are great for an elegant night out or a casual day event.  There are endless opportunities for customization with this beautiful style of earrings. This style may give you a bolder look without the size of a larger single stone.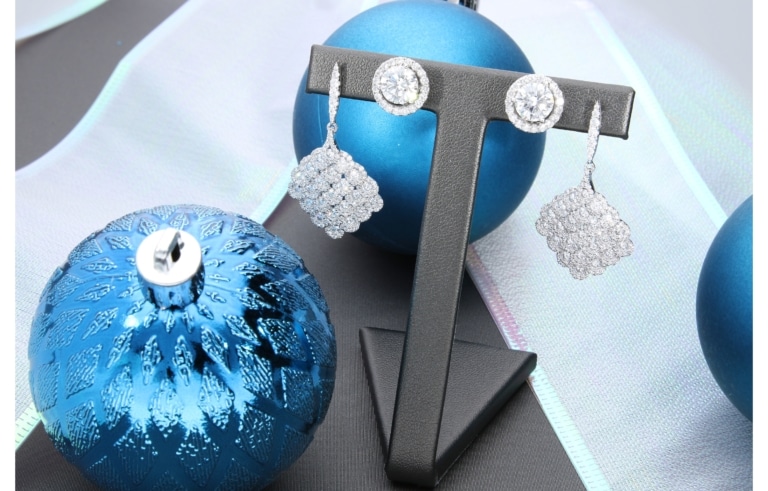 Chandelier Earrings
This style features an array of stones or jewels that cascade downward. Chandelier earrings can be adjusted for you in the shape in which the stones fall, length and width of chandelier earrings, types of stones, etc.  Chandelier earrings are popular choices for a magnificent wedding day.