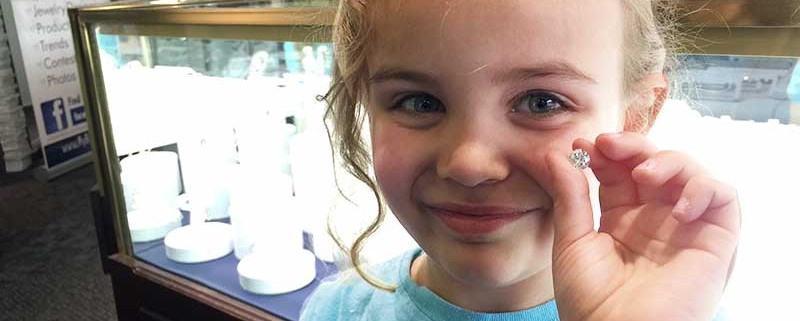 If you were born in April, you're quite lucky because your birthstone is diamond.  But you probably knew that already!  The diamond signifies love, eternity, strength and everlasting affection.
Every girl loves diamonds, no matter how young or old.  You can tell in Reagan's face!
As the April birthstone, diamonds are the ideal gift for a loved one.  And there are so many choices.  You could choose a traditional white diamond, or get creative with a diamond of color.
Fancy-color diamonds are natural, rare and truly exotic gems of the earth.  Diamonds range in color, including yellow, red, pink, blue, and green that range in intensity from faint to vivid and generally the more saturated the color, the higher the value. It's interesting… diamonds with strong colors are rare and may be priced higher than a colorless diamond of equal size.
Reagan had fun posing for this picture because it's definitely a beautiful diamond.