So often I hear about other jewelers creating "custom jewelry", which is usually just a pre-manufactured mounting that they've set their stones (or a client's stones) into. There are computer programs that pull from an existing manufacturer's library, which is essentially plug and play to create a semi-unique combination, but again not shaped and proportioned to get ideal results.  There are even manufacturers that will stamp their pre-made product with a jewelers name and logo so the jeweler can claim it is uniquely theirs, when it's not!
This is a glimpse into our truly one-of-a-kind custom process.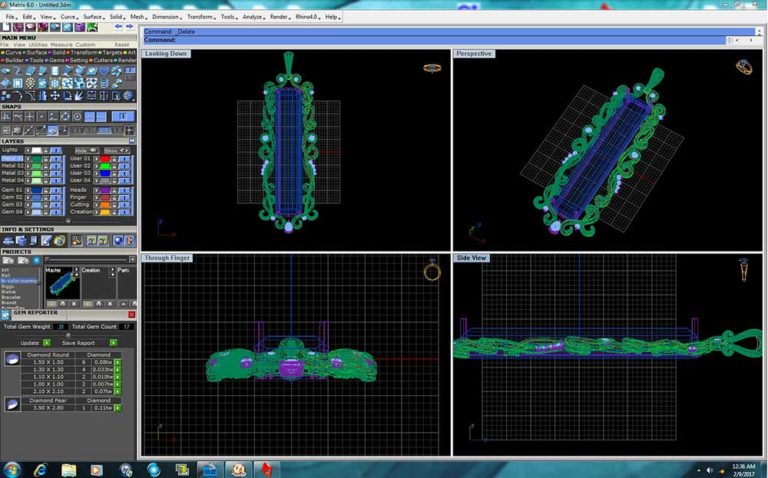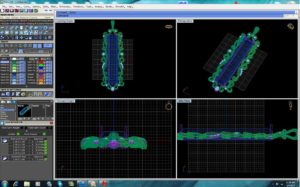 I spent a couple years playing around with some sketched concepts of a design I wanted to create with a unique two-colored tourmaline that I loved! The stone is an extremely long emerald cut that showcases the natural color transition, as well as some interesting natural inclusion characteristics of the tourmaline. I love the juxtaposition of curving fluid designs around the linear step-cut of the emerald cut tourmaline.
I worked on the CAD design of the pendant in-between projects for our clients for a couple months until it was exactly what I envisioned. Working with our jewelers, I made sure all the design nuance and detail was perfectly executed to create one of my favorite pendants!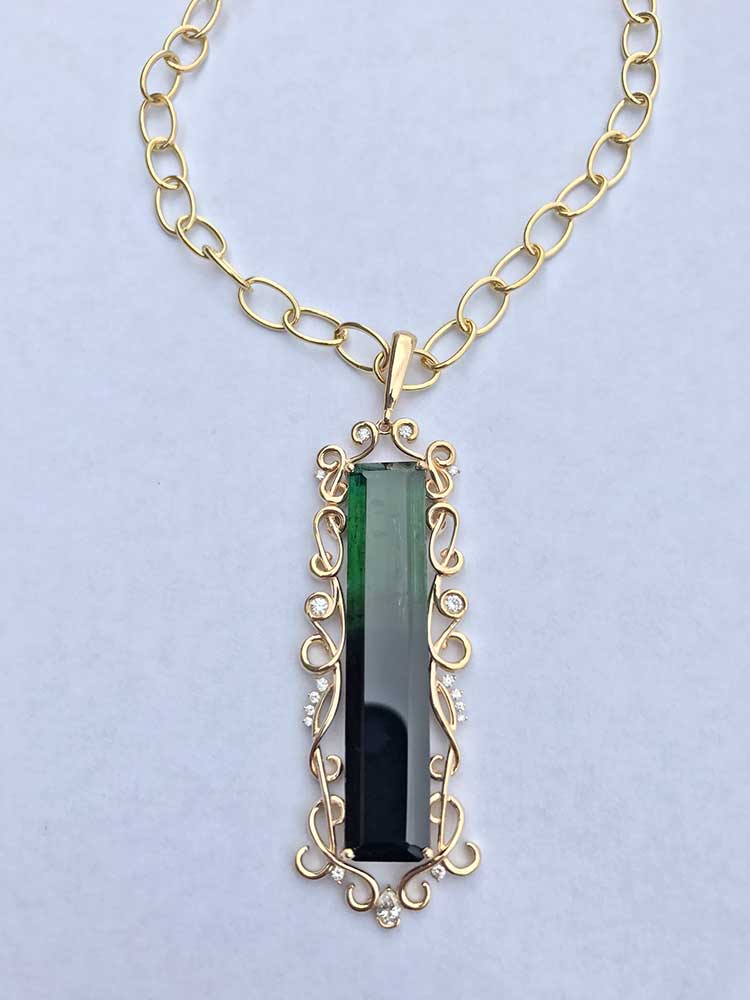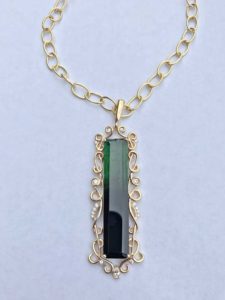 We had hardly had the tourmaline pendant on display for a week when a client saw it and told her husband and friends about it.  Her husband, being sneaky about taking notice, called me the next day to inquire about the design, and coordinate acquiring it for his wife for an upcoming holiday. As expected – it was a hit!
It's very gratifying to create beautiful items that I love, and so many others get to enjoy as well!  I am looking forward to designing and making even more one-of-a-kind creations this year.  Stay tuned and I will post more images as they finish!